Route: Val Claret Tignes/Pointe De Pramecou/Val Claret
Off Piste skiing between: 3054m to 2107m NE/NW
Max Gradient: 48 degrees
Uphill: 3hrs 12 mins
Total Route time from Val Claret: 5hrs
Skiers Level:Advanced off piste
Ski Touring Level: Intermediate
Start: Bottom of Lanches Chairlift
Finish: At bottom Tichot chairlift
Map needed: 3633ET
Grade: 2.1
Exposure: E2
I just love Spring time. Its warmer, the snow pack is more stable and I have more time to go on adventures. Last year touring up and skiing down the 48 degree North Face of the Pramecou on the 9th May 2016 with adventurer and good friend Squash Falconer was one of my vivd memories of 2015/16. From that day onwards we came up with the idea of running backcountry adventures together to inspire, to teach and to motivate people to adventure into the back country. With one of the largest winter store retailers Snow & Rock behind us, in a few days time I am looking forward joining up with Squash and to leading the Snow and Rock Back Country 5 day Backcountry Adventure in Tignes and Val D'Isere.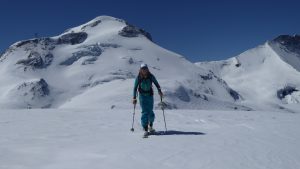 Don't miss out on adventures next season and get in touch and email: [email protected]
Visit our sites:
www.freefloski.com
www.squashfalconer.com