Part 1: Ski Touring the Col Des Fours in Val D'Isere
Ski touring the Col Des Fours in Val D'Isere is part 1 of my top five classic ski tours in the Tarentaise Valley in the Northern French Alps. It is also part one of the series Best Ski Touring Routes on my Freefloski youtube channel
Its a low intermediate ski tour with only a 480m of ascent. For your efforts, you are rewarded with amazing views and over 1000m of vertical off-piste descent into the Vallon Des Fours. It is a great introductory tour for skiers who have some experience in ski touring already. But it is a tour where your timing is everything! You need to make sure that you have big enough weather window and that you time the last traverse to perfection.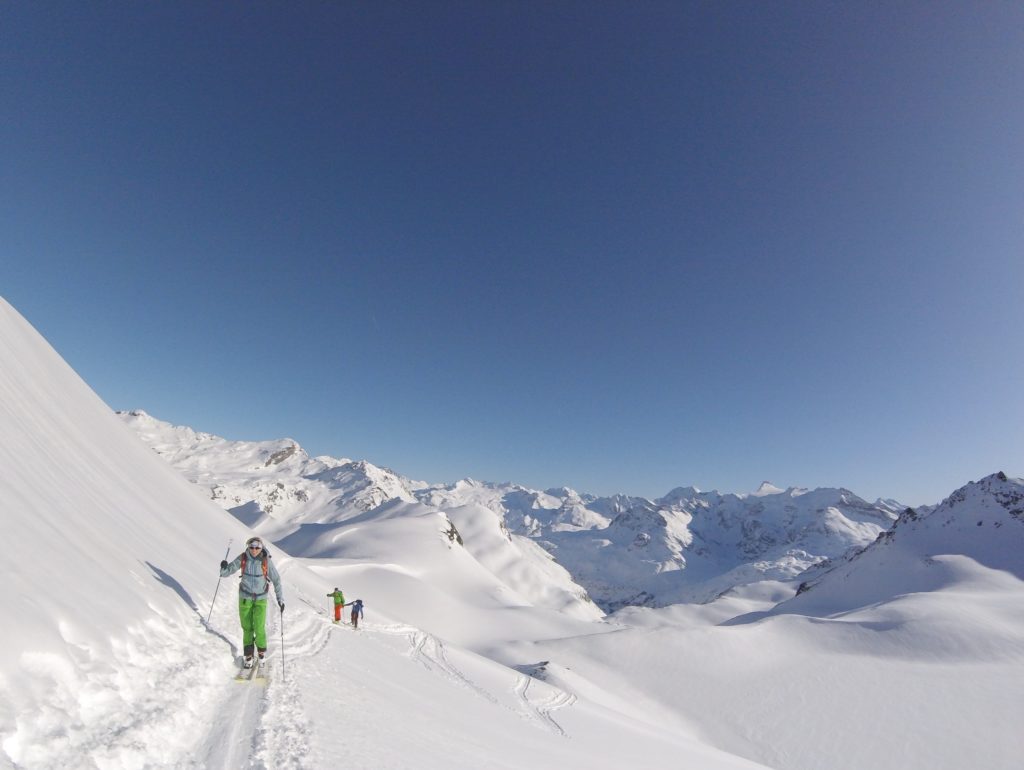 Route: Fornet, Val D'Isere- Col Des Fours- Fornet, Val D'Isere
Off-Piste skiing: 2976m -1915m W/NW/N
Max Ski Gradient: 38 degrees
Uphill: 480m 1.5 to 2hrs
Total Route time from Fornet: 5-6hrs 
Skiers Level: Intermediate off-piste skier
Ski Touring Level: Low Intermediate
Start: Fornet cable car
Finish: Fornet cable car
Lift pass needed: Val D'Isere
Map needed: 3633ET
Depending on your size of the group and the speed of the group this tour in the winter you can actually start in Tignes and ski over to Fornet and ski back depending on your size of the group and the speed of the group. In springtime when the snowpack is warming I would advise you to start in Fornet in Val D'Isere so you aren't depending on a ski lift home.
You start on the Col D'Iseran and ski down southwest to Pont de la Neige. At the bridge, you will find a flat area so you can transition to uphill skiing. From there you climb 480m to the col. If you are careful with your line you don't need to be able to do a kick turn. The last two hundred metres of the tour is the most difficult and its when the timing is everything.  It's a 200m traverse which is slightly exposed and often icy. As the pitch above the traverse is southeast facing it has the sun on it early and the snowpack warms and often releases some slides.
After you reach the col you have endless options of skiing different lines to the Refuge Des Fours. Choosing your ski down after the refuge becomes a little bit more tricky as you are in more complication terrain. Depending on snow conditions you can then decide to keep left or right of the river des fours back and then back to the Manchet chairlift.
For more ski touring tips see blog:  5 Ski and Snowboard Touring Technique Tips
'Ski tour in comfort and performance; I choose nothing but the best and highly recommend the backcountry selection from Floâ Sports,' Jocelyn Cockle (Floss) Director of Freefloski
FREEFLO specializes in progressive on and off-piste ski instruction, backcountry ski touring and women-specific ski courses. We offer personal British ski instruction for skiers of all abilities. Our primary objective is helping competent skiers to improve their technique on and off-piste and in the backcountry. Our intuitive coach approach will help you to progress, have fun and enjoy the full freedom of the mountains in a safe and confident manner.