The Preparation:
Always a good day ski touring in the mountains takes some sort of preparation. The night before I checked three weather forecasts one included my favourite snow-forecast.com. I decided that the conditions for ski touring were good for two days. In the morning I reaccessed the forecast. I packed my bag with enough food and equipment that gave me optionality, as I wasn't certain how long we would be touring for. The plan of attack was to start touring up a piste called Palafour from Tignes Le Lac. The slope is south-east facing and we could stay warm in the sun. We would then decide where to go on route. We had no other concrete plans to arrive at a summit or to achieve a particular route.
On Route:
I decided to break trail off-piste as there were workers on the piste half way up.  Once we arrived at Chardonnet Bowl, we could really start seeing the mountain and reading the signs. Routes in Chardonnet bowl had been skied and two skiers were skiing down and not making it look easy. The wind affected certain summits and cols.  There was one group of 6 or 7 skiers or splitboarders going up a route called Grapillion Des Merles. The snowpack looked thin, the snow was uneven, there were sasturgi and plumes of snow. The group still decided to go up even if the route wasn't inviting?
We decided to continue upon the piste to the snow park on Grattalu after discussing what we saw and how we felt. Our aim was to ski tour gentle and it was our second ski tour of the season. Two other ski tourers were happy to chat and to share some of their knowledge. They had told us that their friends had ski toured up Grapillion a few days ago and they found that the snow was dangerous, thin with lots of rocks. That news reinforced the decision that we made earlier not to follow the group. They also told us that they saw avalanche activity on west facing slopes and to be aware of the weak layers in the snowpack. We thanked them for their news and headed to the Col Du Palet taking on board what we knew and what we could see.
Knowing the routes into the col and knowing what I knew about the terrain, I decided to keep low and take a new flat touring line into the col to avoid rocks. Above we could see a man skiing on the ridgeline struggling with the lack of snow. So we kept our eyes on him and made sure we weren't underneath him.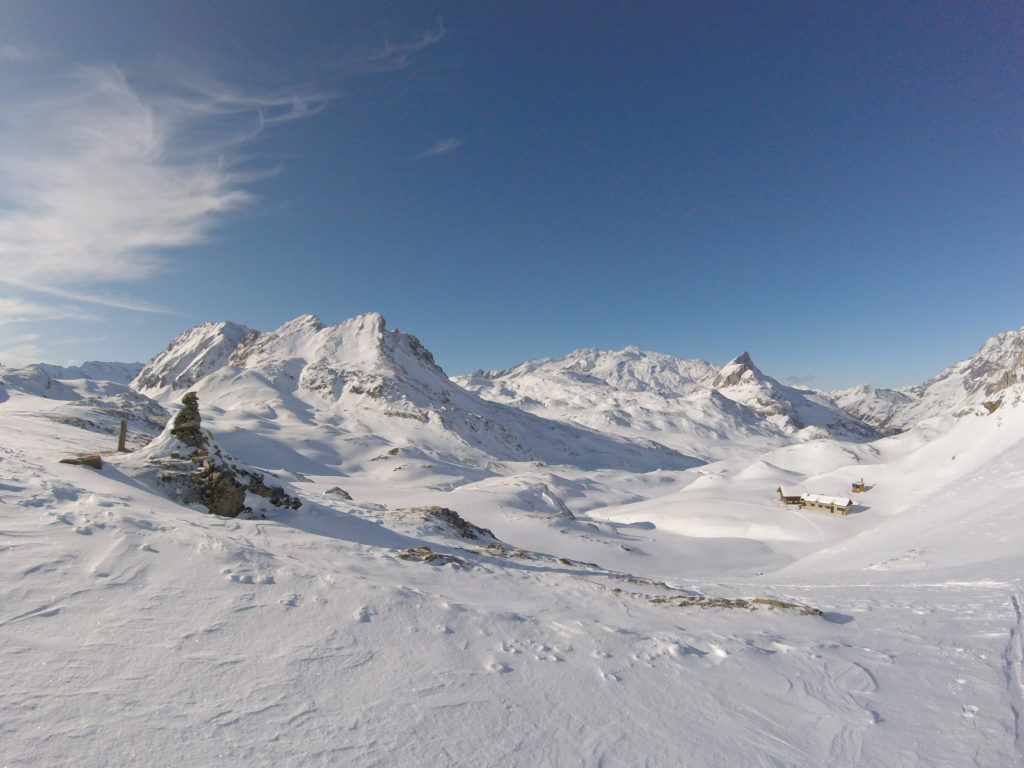 Reading the mountain for the ski down:
Once we arrived at the Col Du Palet we could read the mountain and the evidence of where was the best powder route down. We looked on to the back of Chardonnet bowl and notice a slab avalanche on the west face on route to diamond couloir. At lower altitude the fresh snow had been cross loaded to north-east slopes and gullies. With this info and what we could see, we then decided to handrail clockwise to a north-east gullie and enjoyed making fresh powder turns on a gentle slope.
Ski Touring out:
Enjoying the fresh powder by ourselves, we soon arrived at lake Grattalu.  I had noticed that the lake hadn't been frozen so it was best to stop before continuing any further. We then choose the easiest and most efficient route to get back to the col.  Once we reached the col, temperatures had risen and we were tired. To be on the safe side of caution, as I was coming back from a ski collision. We decided to take our own skinning track back onto the piste and headed home.  Another great day in the mountains. We were very happy with our decisions, we found the best snow, was safe and had a great day skiing powder with no one around.
I will be delivering mountain respect workshops throughout the winter. If you are interested please get in touch:  www.freefloski.com 
Happy Skiing 🙂