The Rocher de Bellevarde rises to 2817m and the summit of its 1000m high face overlooks Val D'Isere. Through the  breathtaking off piste skiing lines between the rocky spurs of the summit  lies the couloir Table D'Oreintation and l'Antenna.  The Table D'Oreintation is commonly known as the Table and it is a classic off piste route in Val D'Isere that should not be missed.
The Table is one of my favourite routes to guide and to coach in because of its variation and also for its accessibility. If you get the snow conditions right you can start the decent in a wide couloir which opens into a bowl of untracked powder. After the bowl you can then decided to continue left into the trees and end up at the bottom of the cable car lift. The second exit option is handrail to the right and work your way back onto the piste of the famous World Cup downhill run Le Face.
Off Piste skiing between: 2690m-2209 m NE
Max Gradient: 44 degrees
Uphill: 25 to 40 mins boot hike dependant on conditions
Skiers Level: Strong Intermediate/Advanced off piste
Start: From the top of Olympique
Finish: At bottom of Val or the
Lift pass needed: Espace Killy
Map needed: 3633ET
Grade: 2:2
Exposure: E2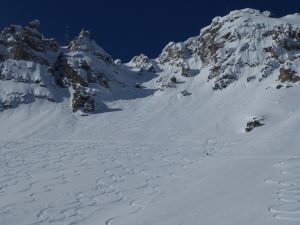 FREEFLO specialises in progressive on and off piste ski instruction, backcountry ski touring and women specific ski courses. We offer personal British ski lessons for skiers of all abilities, though our sweet spot is helping competent skiers to improve their technique on and off piste and in the backcountry. Our intuitive coach-approach will help you to progress, have fun and enjoy the full freedom of the mountains in a safe and confident manner.
Step into your next adventure and email: [email protected] or visit www.freefloski.com
For more ideas for adventures and activities in France visit: Active Azur