'Ski teaching is not a proper job… Get a proper job…' is what everyone would tell me.
My story is different from most other stories. The majority of ski instructors come from a ski racing background. They are people who are born in the mountains and on skis. Just like you, I was an ordinary British person who was born in England where there was no snow or large mountains to ski down. A career of being a ski teacher was not recognised as being a proper job.
My first ski experience:
I will never forget my first ski experience. I was on holiday at nine years old with my family. We started skiing in a small resort in Spain and the whole week was a total disaster and a bad memory for me. I hated every moment of it, carrying my skis, wearing heavy and uncomfortable boots and being cold.
My instructor didn't speak any English and had very little patience. To make matters worse, my brother picked skiing quickly up and was zooming effortlessly down the mountain. Next was my sister, with a full face of make-up, who adopted the perfect ski technique. I was a total disaster. I couldn't turn left, I couldn't turn right and I couldn't get up to the top of the slope on a lift. It was a real struggle and not easy. I was scared and I didn't understand anything. I didn't know the 'How to ski..'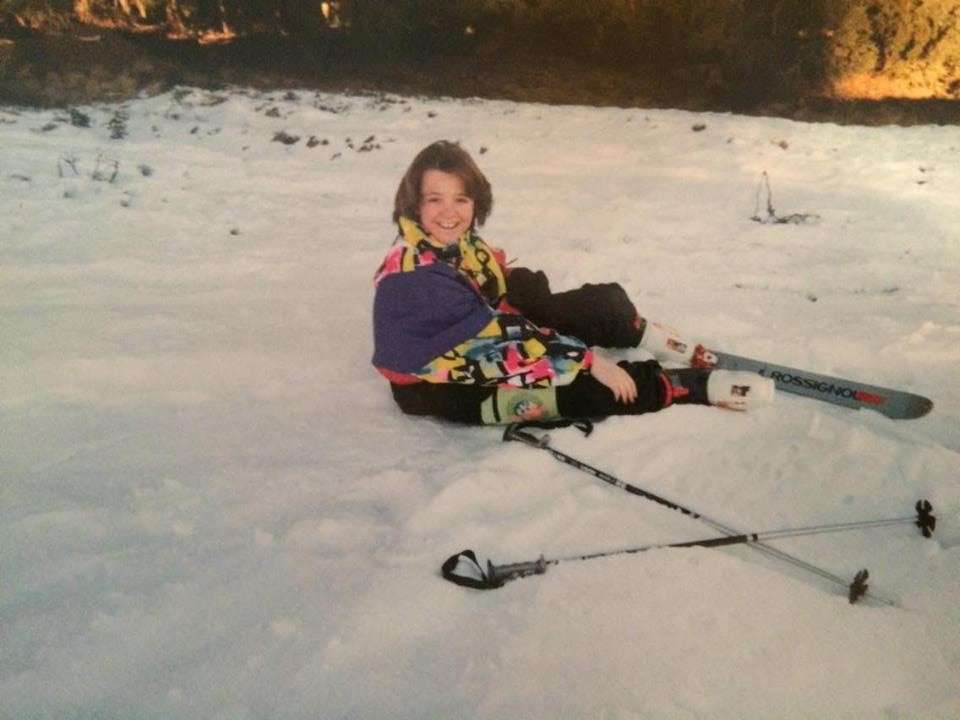 At the end of my first week of skiing, the instructor did manage a sentence in English. He said to my parents, "Skiing is not for your daughter. " Hearing that sentence just destroyed me and gave me no confidence at all. 
However, my Dad had other ideas. I wasn't allowed to give up. Through his eyes giving up was a failure. Because of my Dad, I was back skiing again with the family on the next winter holiday.
A few years past, like millions of other people I found myself going down the path of getting a proper job. I finished my GCSE's then my A'levels and started University in Nottingham. But I wasn't motivated, fulfilled or happy and I knew deep down that something was missing.
After University:
After one teaching term, against my parent's wishes, I left University. I started the next winter as a chalet girl in the ski resort of Courmayeur in Italy with Ski Inghams. The drinking and party culture of being a chalet girl had completely influenced me. One Sunday I was hungover and sitting on the chairlift in resort when I found myself talking to a stranger. The stranger's name was Brian Fern. At the time he was a ski trainer for BASI which is the British Association of Ski Instructors. I remember thinking WOW, how cool is that he skies for a living. ! Working your passion.  I then saw him ski for the first time and I thought to myself that he was a SKI GOD…because he was amazing and made every turn with no effort. I was in love!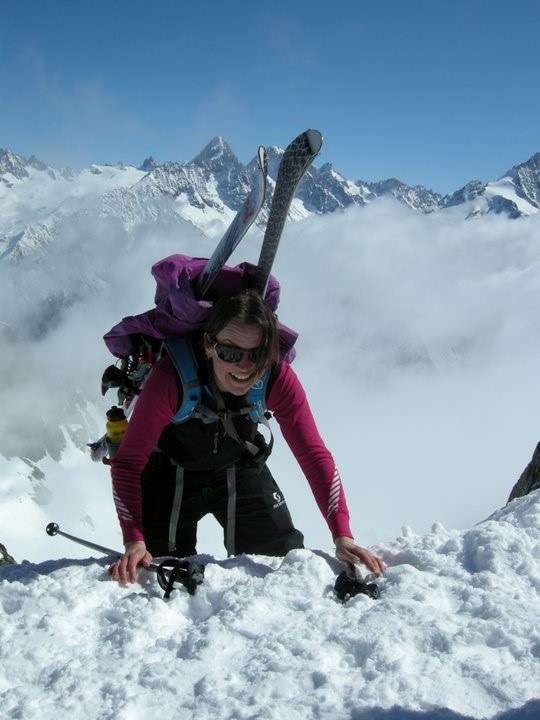 That was the beginning of a fourteen winter struggle through the ski instructors system. I gave up everything and followed my dreams. I was a ski bum in pursuit of a ski teaching career in France! It wasn't easy. Most summers I was working two jobs to finance the winter training and exams. I slept on some floors to save accommodation costs and sometimes I would sleep in my car. 
I remember starting my APC Level 3 Ski Coach course in a pair of twin tips skis and baggy pants. At the time I couldn't afford the race skis and a nice shiny lycra race suit.
The ISTD level 4  is the last level out of the four levels of the system. It was the hardest and took me five winters to complete. The training and exams took their toll financially and physically. I remember the start of my 30's being the broken years. I had encountered so many injuries, several broken bones, a couple of dislocations, torn tendons, concussion and a fused c8 vertebrae. Despite all the injuries and lack of funds I still had the drive and determination to finish the diploma. I didn't want to be old in my rocking chair and have any regrets about life.
The turning point:
What was a turning point for me in this difficult time? I looked into how to improve different parts of my skiing. With research and speaking to others, I tested new strategies.  I developed ways of becoming a better ski athlete. I listened and made the changes and improved my skiing. From the inspiration of reading the book the Inner Game to Skiing and later the Inner Game to Tennis I also started to train my mind and to improve my mindset and as a result, my skiing and understanding went to the next level. I still coach these methods today and you can read another post on the Here and now in skiing that I have written.
It was the difference between night and day and in December 2012 with bib number 75 in Alpe D'huez I passed my euro test. I was the fastest girl in the race and .92 of a second inside the time. This achievement was the passport to my career in teaching skiing in France. I was so thrilled and overjoyed!!!! I was the 37th British woman to have ever passed this particular ski race. 
Today:
Now I teach people all the lessons I have learnt. The lessons. The mistakes. The secrets. The ski adventures. The 'How' …
If you'd like me to take a look at your skiing or give you some invaluable ski holiday advice drop me an email to [email protected].I have some free available one to one call sessions available.
I will look forward to hearing from you soon.
All the best
Floss
P.S: For more skiing advice and tips subscribe and like us on youtube.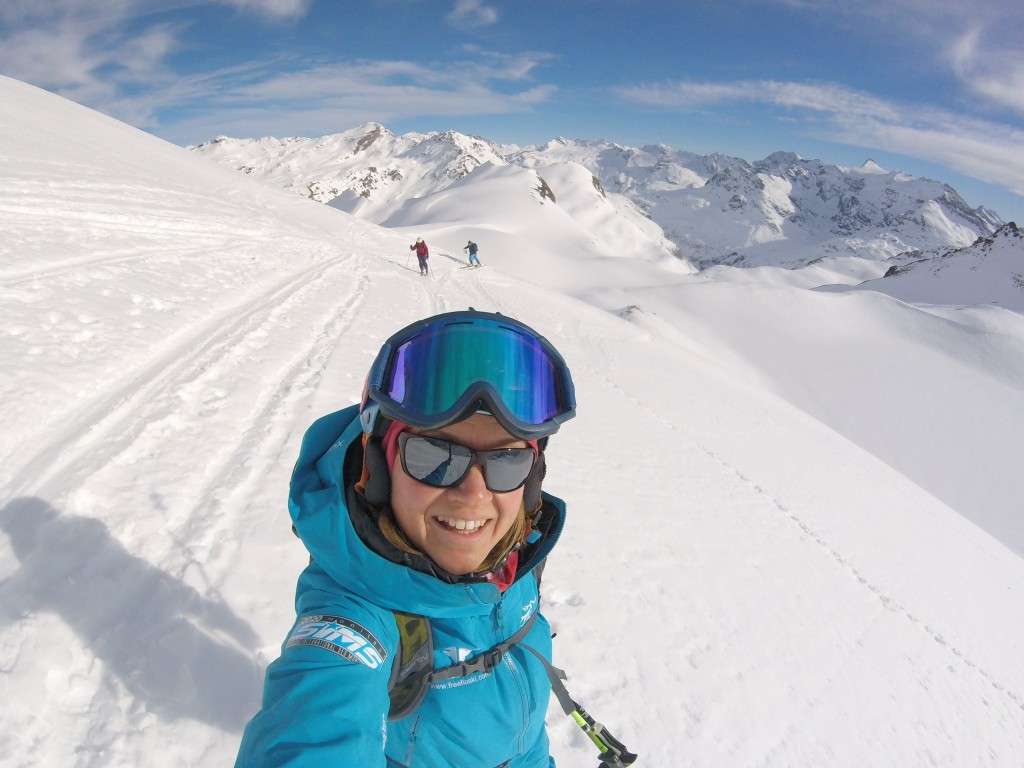 P.S.S: Further reading that I recommend to help you to control your mindset is The Chimp Paradox by Professor Steve Peters. It is a fantastic read which can help you in your day to day routines.