For the third year running I have just finished leading the FREEFLO Womens Introduction to ski touring Course in Tignes and Val D'Isere. I love and enjoy running this two day adventure as it allows me to pass on skills and twenty years of winter mountain experience to people that have never experienced ski touring in the backcountry before. I have just had an amazing time with four special people.
Day one ski touring
On the first morning we met up in Planks Coffee Shop which is relaxing place to start any course whilst drinking good coffee. I spent the first forty minutes getting to know everyone and to find to each persons expectations and goals for the course. I then discussed the weather, the snow conditions and current situation of the snowpack and taught everyone where to find this valuable information. We then checked our gear and kit list and made sure we carried everything we needed. I gave a rough outline of a plan for the two days before heading outside on the piste for a skills session. I then taught everyone essential ski touring skills. This included how to put skins on and off, how to change their bindings and boots to uphill and down hill mode, different turns, route selection etc:
To gauge ski ability and to brush on technique before heading into the backcountry we skied a small section of off piste . The snow was great and as soon as the clouds broke and the blue skies arrived I took the opportunity and lead the group into the wilderness of the backcountry. Virgin untracked snow as far as the eye could see was our view as we crossed the Col De Palet. No one was around as skiers were skiing fresh powder in the resort. It was perfect timing as we made our own tracks in the powder as a group of five. Once we had arrived at the lake we tucked into a well deserved snack and drink. After ski touring for fifty five minutes we then arrive to the refuge de palet and enjoyed tucking into a three course meal.
Day two ski touring
The next morning was clear and no one was in sight. We took full advantage and skied the powder on the north facing slopes to lake Grattalu and then broke tracks uphill making our way through the valley of La Tourne. The valley La Tourne is one of my favourite ski touring itineraries. Its gentle and has breathtaking views especially when come out of the Col de Tourne and overlooking Tignes. It was an amazing two day adventure with great company and one that I will never forget.
This is what the team thought
"I love skiing, but getting a introduction to the awe inspiring backcountry of Tignes, gave me a new level of appreciation of why we ski. Nature is even more beautiful, impressive and so much more powerful than us out there beyond the ski area boundaries. Still, we can be part of it and enjoy it if we work together, breaking track, reading the snow conditions and finally huddling together in front of a fire in the cosy Col du Palet refuge. A truly unforgettable introduction to touring." Leizel Cloke
"Such an adventure to be pushed safely right out of my comfort zone, experiencing an enemies depth of powder surrounded with such stunning scenery and Flo providing us with a photographic life time memory to share..thanks FREEFLO..amazing amazing." Sally Coates
"The two day tour exceeded all my expectations from the glorious weather, the bouncy snow and the sunny scenery to the delicious refuge dinner and the comfy beds. It was a magical couple of days and Flossie inspired confidence by creating a safe and fun learning environment for all of us touring rookies…I am so please I booked it was my best two days of the week." Amy Cardale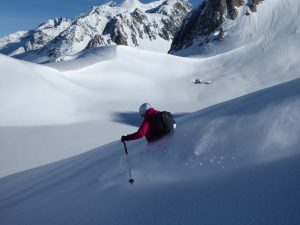 FREEFLO specialises in progressive on and off piste ski instruction, backcountry ski touring and women specific ski courses. We offer personal British ski lessons for skiers of all abilities, though our sweet spot is helping competent skiers to improve their technique on and off piste and in the backcountry. Our intuitive coach-approach will help you to progress, have fun and enjoy the full freedom of the mountains in a safe and confident manner.
Step into your next adventure and email: [email protected] or visit www.freefloski.com